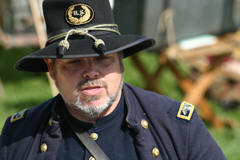 About Roy Wells
Roy Wells has a lifelong love of history that goes back to the 1960s, when the country was celebrating the Centennial of the American Civil War.
A graduate from Santa Clara University with a Major in Decision Science and a Minor in Military History, Roy was a part of the USAF ROTC program and served as an officer in the Air Force. He later returned to Santa Clara and earned a Master's Degree in Business Administration from the Leavey School of Business there.
However, his love of history led him to take up reenacting, where he combined this love with a slight flair for the dramatic. While he has reenacted various eras, his most active role was as the Regimental Commander of the Union Army for the Civil War. During this time, Wells often served in other roles, such as on a panel for a local PBS show when the Ken Burns series on "The Civil War" was released, noting some of the over 1000 errors the series contained (including Lincoln's age at the time of his death). He also served as one of those interviewed for the HGTV series "What's Your Hobby?" – their first episode dedicated entirely to one hobby.